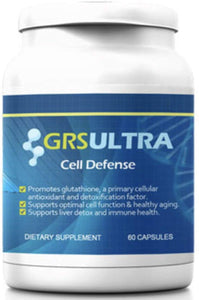 GRSULTRA CELL DEFENSE 60 TAB. CELLULAR Antioxidnats and Detoxification factor
Benefit of the Product.
GRSUltra is a breakthrough discovery containing clinically-proven nutrients that promotes gluthathione for cellular health.*
Protects against free radicals
Supports healthy cell function & healthy aging
Promotes Cell Defense from Oxidative Stress
Supports healthy/normal glutathione, a cellular antioxidant
*These statements have not been evaluated by the Food and Drug Administration. This product is not intended to diagnose, treat, cure or prevent any disease.
Important information
Ingredients
Selenium (from high-selenium yeast) (SelenoExcell®), N-Acetyl-L-Cysteine (NAC), Red Orange Complex®  Blood Orange Extract (fruit pericarp) (8.5% flavanones, 2.8% anthocyanins, & 1.8% hydroxycinnamic acid).
Other ingredients: microcrystalline cellulose, gelatin, stearic acid, magnesium steara te, and silica.
Suggested Use
As a dietary supplement, adults take two (2) capsules on an empty stomach prior to a meal.
WARNINGS: Do not exceed recommended serving size. If you are pregnant nursing, have a medical conditions, or are taking any medications, consult your physician before use. If adverse reaction occurs, discontinue use and consult your physician. Keep out of the reach of children. Store in a dry place and avoid excessive heat.
Legal Disclaimer
(SelenoExcell®) is a registered trademark of Cypress Systems, Inc.
Red Orange ComplexTM is a registered trademark of Bionap SRL.
---