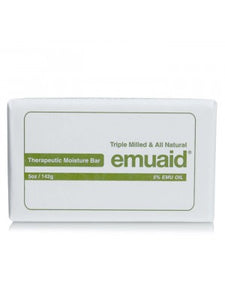 Emuaid Therapeutic Moisture Bar 5oz
Buy at Amazon Australia,      Buy ar Amazon USA.
Much more than a typical bar soap, this all natural, advanced formulation contains 5% Emu Oil along with Tea Tree Oil, Argan Oil, Macadamia Oil and Jojoba Oil. This face and body bar is triple milled in the 300 year old French tradition and packed with nature's most effective anti-bacterial and anti-fungal essential oils. Each bar contains maximum doses of:
Emu Oil:

 Prized for its unparalleled transdermal healing properties and high levels of natural linoleic and oleic fatty acids and Vitamins E and A, Emu Oil is an excellent moisturizer and won't clog pores. The Emu Oil in our bar is unsaponified ensuring that its benefits are not lost or adulterated. We put in the maximum level of Emu Oil possible without making the soap too soft.
Tea Tree Oil:

 Mildly astringent, non-irritating, antiseptic & anti-fungal, it is known best for its healing powers. Tea Tree contains an organic compound called terpinen-4-ol that is responsible for most of Tea Tree Oil's antimicrobial properties. This all-natural anti-fungal agent works on all skin types to heal and rid the skin of acne and other skin irritations without the negative effects of redness and peeling.
Argan Oil:

 This rare oil softens and renews the skin due to its high levels of Vitamin E, essential fatty acids and antioxidants. Argan Oil helps with many skin conditions, from dry skin and wrinkles to psoriasis, eczema and acne.
Macadamia Oil:

 High in palmitoleic acid (a naturally occurring fatty acid), Macadamia Oil slows down the signs of aging, softens, moisturizes and repairs dry or damaged skin.
Peppermint Oil:

 It helps calm common skincare problems such as acne, irritation, soreness and itching. It also reduces redness, blotchiness and perks up dull skin. Peppermint oil contains several minerals that benefit skin including iron, magnesium, folate, calcium, potassium, copper, omega-3 fatty acids, Vitamins A and C.
Jojoba Oil:

 Jojoba oil acts as an excellent moisturizer – it supplies the skin with adequate moisture without blocking the pores. It is suitable for all types of skin because it restores the normal oil balance of the skin.
Salicylic Acid:

 Salicylic acid reduces swelling and redness and unplugs blocked pores. It treats other conditions by softening and loosening dry, scaly, or thickened skin.
A perfect complement to EMUAID® First Aid Ointment, EMUAID®Therapeutic Moisture Bar deeply cleanses and detoxifies the skin, delivers intense hydration and restores moisture, exfoliates to promote cellular turnover and stimulates natural skin regeneration.
Use on face and body - excellent for shaving or shampoo
No parabens, phthalates, paraffin, gluten, propylene glycol, mineral oil, synthetic fragrance, PABA, synthetic color, DEA or sulfates
---